Stock to Custom – The process of customizing a 2016 Toyota Tundra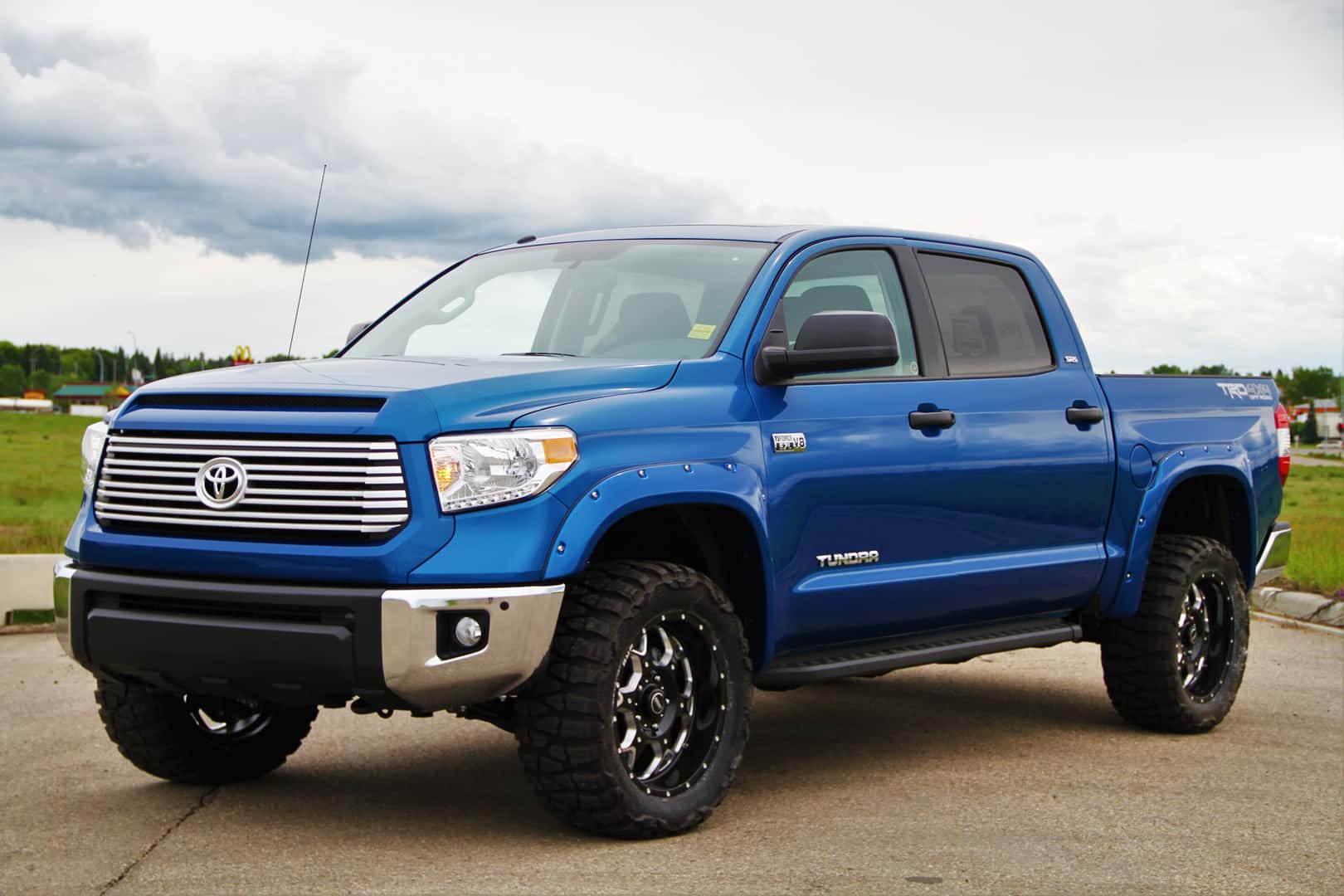 We sat down with our Part's Manager Kevin McEachern to talk about the Sherwood Park Toyota process of developing a custom new truck from conception to showroom.
Why did your team choose a Tundra?
When you live in Alberta, there's a demand for it. Simply put, people love their trucks here and with a significant number on them on the road there's sure to be a higher ratio of people looking to stand out and customize. Going deeper into the reasoning for selecting the Tundra is two-fold – the model stands out more in available standard features and Tundras overall have a larger source of available accessories when compared to the new 2016 Toyota Tacomas or 4Runners.
When deciding on a specific trim level, while we love the TRD Off-Road platform, the trim level just doesn't stand out visually as much as we'd like. This gives us the chance to work with a great underlying product and produce a custom rig for anybody's tastes or requests.
Any motive for sticking with a blue exterior?
We tend to stick with black, white and blue. These colours do a great job delivering a clean-cut finalized look.
For this Tundra, your team added a 3 inch leveling kit. What's the reasoning for 3 inches specifically?
Functionality. The key factor in this decision is when you go beyond a 3 inch lift you'll almost always run into alignment issues. Besides, anything over a 3" lift and you'll also have a serious job of major modifications, namely cutting the frame.
We're happy to take on nearly any custom project, but for our customers who are interested in a specific look while keeping that vehicle for their daily driver and the occasional off-roading trip, we're confident they are going to be happier overall with their vehicle on a 3" lift.
The new rims look great, what factors are most important when deciding sizing and brand type?
We are fanatics of ensuring that quality comes first. We've built so many custom projects over the years that any hint of a product that can't withstand our expectations get pulled. With those expectations set we're a big fan of BMF rims. Outside of the build quality, we tend to stick with black and machined rims simply because they deliver a clean look. Unlike chrome rims, you'll never have to worry about peeling, rust, corrosion, or smaller abrasions from off-roading.
How many total accessories went into this project?
3 Inch Revtek leveling kit
20" BMF rims
Bushwaker fender flares
Toyota running boards
Nitto Mud Grappler tires
Toyota Tundra Limited Grille
What can someone expect for completion times on a job like this?
For this job specifically, once we had the fender flares painted and all parts ready for assembly, the completed product was show-ready within the day.
If I'm looking to customize to the max, what kind of modifications is Sherwood Park Toyota capable of?
Chances are if you've seen it, we can do it. A few of our completed requests include.
Roof racks
Full or partial body wraps
Light bars
Steps all different kinds
A wide variety of lifts and leveling kits.
Airbags for hauling
On-board air systems
On-board air compressors
Interior custom drawers
Rooftop tents
Skid Plates
Leather seats and interior parts
DVD players and TV screens
3M
Tonneau covers
After market Headlight and taillight accessories
Intake and exhaust systems
Wheels and tires
Window tinting
Carbon Fiber Hoods
Spoilers
Fuel tank changes
and TV screens
Customize your own rig! – Take a look at our latest Tundra inventory here:
Tundra Inventory